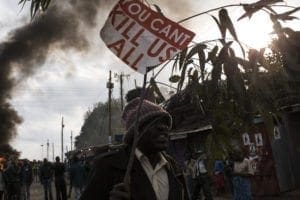 Kenyan police must not use unnecessary force in their handling of any election-related protests, said Amnesty International today amid fear and uncertainty in the country after the opposition rejected the initial publicly announced results.
In a live press briefing this morning, opposition candidate Raila Odinga, of the National Super Alliance (NASA) coalition, alleged the electoral commission's website had been hacked and the results manipulated in favor of the ruling Jubilee Party. He claimed the system had been hacked using the log-in details of Chris Msando, the top election body official who was found murdered on July 31.
Initial publicly announced results showed the incumbent President Uhuru Kenyatta leading in the votes.
"This morning's claims of election database hacking have raised suspicion and already pushed opposition supporters in some areas onto the streets. The police should not use force or firearms to break up peaceful protests. Force should only be used as a last resort, and even then only the bare minimum to prevent loss of life," said Muthoni Wanyeki, Amnesty International's Regional Director for East Africa, the Horn and the Great Lakes.
"Any excessive or disproportionate use of force would violate Kenyan and international law."
Amnesty International has so far received reports that crowds are gathering in Nairobi's Mathare slums, and in the Kondele area of Kisumu, a pro-opposition county that has been the epicenter of heavy-handed crackdowns by the police in previous elections. In anticipation of protests, massive numbers of police heavily-equipped with crowd control equipment have deployed in many parts of the country.
"If the demonstrations turn violent, police have a duty to protect people from harm, but they must not use the violent acts of a few to restrict the right of others to protest peacefully. They must also ensure the safety and rights of independent election observers, and media reporting on the results," said Wanyeki.
"Political leaders must also play their part by publicly urging their supporters to refrain from violence."
Kenyans went to the polls on August 8 to elect a president, governors, senators, members of county assemblies, women representatives to the county assemblies, and members of parliament.