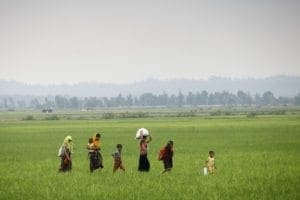 The statement by Myanmar's leader Aung San Suu Kyi's office, which claims that the government is defending all the people in Rakhine state "in the best possible way," is unconscionable, Amnesty International said today.
"This is a human rights and humanitarian catastrophe. In her first comments on the crisis, instead of promising concrete action to protect the people in Rakhine state, Aung San Suu Kyi appears to be downplaying the horrific reports coming out of the area," said Tirana Hassan, Amnesty International's Crisis Response Director.
"With tens of thousands of Rohingya pouring across the border, and thousands of others displaced in the state, the evidence that the Myanmar military has launched a vicious campaign of retaliatory violence against the predominantly Muslim Rohingya people is overwhelming. The government must allow immediate and unfettered access to aid organizations, which have been blocked from helping those who are stranded in the northern part of the state."
Following attacks by a Rohingya armed group on August 25, and the subsequent campaign of violence perpetrated by the military against the Rohingya community in Rakhine state, about 146,000 Rohingya people, mostly women and children, have crossed into neighboring Bangladesh, leading to a major humanitarian crisis.