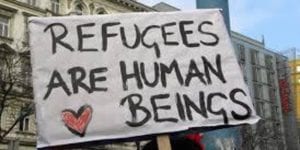 FOR IMMEDIATE RELEASE
June 20, 2017
CONTACT: Robyn Shepherd, [email protected]
NEW YORK – The New York State Senate passed a resolution today proclaiming support for the resettlement of refugees and urging other states to support similar efforts nationwide. The resolution also calls on Governor Cuomo to formally proclaim New York's recognition of World Refugee Day on June 20.
The passage follows a similar action by the New York State Assembly last week.
"From the Statue of Liberty welcoming immigrants to the harbor, to the rich diversity of our modern cities, New York has long been a leader in welcoming those seeking refuge on our shores," said Anita Teekah, legislative coordinator for Amnesty International USA's member groups throughout the state. "It's critical that those of us who welcome refugees speak out loud and strong to show that in New York we value human rights for all."
"Despite some elected officials' constant attempts to vilify refugees, local communities across the country are demonstrating that most people reject bigotry and want to treat people fleeing violence with compassion," said Naureen Shah, senior director for campaigns at Amnesty International USA. "Today's action by New York is a powerful rebuke to hateful policies that would leave millions of people vulnerable to war and deadly violence."
Amnesty International USA contributed to the drafting of the resolution.