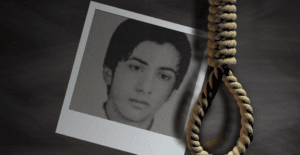 Following today's execution of Alireza Tajiki, a young Iranian man who was arrested, convicted and sentenced to death as a child, Amnesty International's Deputy Director for the Middle East and North Africa Magdalena Mughrabi said:
"By going ahead with this execution in defiance of their obligations under international law, and despite huge public and international opposition, the Iranian authorities have again cruelly demonstrated their complete disdain for children's rights. This shameful act marks a critical turning point for Iran, and exposes the hollowness of the authorities' claims to have a genuine juvenile justice system."
"Alireza Tajiki is the fourth person executed in Iran this year who was arrested as a child. His execution, which was carried out despite his allegations that he was tortured into 'confessing,' consolidates a horrendous pattern that has seen Iran repeatedly send people arrested as children to the gallows, often after deeply unfair trials.
"This execution is a flagrant violation of Iran's obligations under the UN Convention on the Rights of the Child, which it ratified two decades ago. By putting Alireza Tajiki to death, the Iranian authorities have demonstrated their appalling commitment for continuing with this abhorrent practice and shown they do not even have the will to implement their half-hearted reforms to save the lives of those convicted as children."
Background
Tajiki was 21 years old at the time of his execution. He was arrested in May 2012 when aged 15 and sentenced to death nearly a year later in April 2013. A criminal court in Fars Province, southern Iran, had convicted him of murder and lavat-e be-onf (forced male-male intercourse).
The trial was grossly unfair and relied primarily on "confessions" which Tajiki had said were extracted through torture, including severe beatings, floggings and suspension by the arms and feet.
In 2013 the Iranian authorities introduced piecemeal reforms to deflect criticism of their appalling record on executions of juvenile offenders, yet despite this they have continued to condemn dozens of young people to death for crimes committed when they were under 18, in violation of their international human rights obligations. These reforms included amendments to Iran's 2013 Islamic Penal Code that grant judges discretionary powers to replace the death penalty with an alternative punishment if they determine that the individual had not reached "mental maturity" at the time of the crime.
Iran is one of the last few countries in the world that still executes juvenile offenders. As of August 2017, Amnesty International had identified at least 89 individuals on death row who were under the age of 18 when the crime was committed.