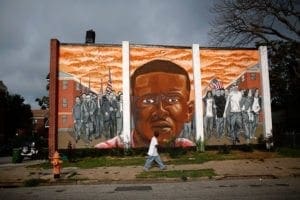 Following the announcement that the Department of Justice will not charge any Baltimore police officers in the death of Freddie Gray, Amnesty International USA called for the strengthening of laws governing lethal force by police:
"Until there is widespread reform of the overly broad laws governing the use of lethal force by police, accountability for tragedies like this will remain elusive," said Kristina Roth, senior program officer at Amnesty International USA. "Not one U.S. state has laws that meet the basic international standard that lethal force should only ever be used as an absolute last resort. Families and communities deserve better from those that are sworn to protect them."
In 2015, Amnesty International issued a report that found that all 50 states failed to meet international standards regarding lethal force by police. Maryland is one of nine states that has not enacted a use of lethal force statute. The report called for reforms at the state and federal level to bring police practices into compliance with international standards, and to officially collect and publish national statistics on the use of force by police.