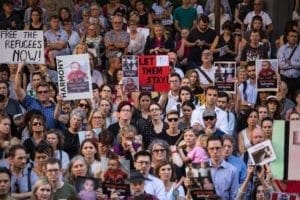 Responding to reports of protests on Manus Island, where Papua New Guinea (PNG) immigration officials, implementing a policy set by the government of Australia, are attempting to force refugees and asylum seekers out of an immigration detention center, Josef Benedict, Amnesty International's Deputy Campaigns Director for Southeast Asia & Pacific, said:
"Until there is a safe place for them to go, forcing refugees and asylum seekers out of the detention center will cause even more suffering. Reports that police are attempting to forcefully clear the compound by cutting off water and electricity are alarming, but sadly typical of the policies of the Australian department of immigration, whose conduct on Manus Island has been marked by human rights abuses and deliberate cruelty."
The refugees and asylum seekers are being told to move to a "transit center" closer to the main town on the island, but the detainees don't feel safe there. Those whose claims are denied are being asked to leave.
Yesterday, transcripts of President Trump's call with Australian Prime Minister Turnbull showed that Trump erroneously believed that those on Manus Island and the island nation of Nauru were detained by Australia because they were criminals, rather than awaiting claims for asylum. "I guarantee you they are bad," he said. "That is why they are in prison right now."
"Between the Muslim ban and this shockingly misinformed assessment of those being detained by Australia, President Trump's refugee policies are clearly driven by discriminatory and false stereotypes of people who are merely seeking safe refuge," said Eric Ferrero, deputy executive director of Amnesty International USA.. "The people on Manus Island are not criminals for trying to escape violence and persecution, but they are certainly being treated as though they were. The United States should be showing compassion to these desperate and vulnerable people rather than compounding their misery."
"Australia's offshore refugee processing system is illegal and abusive, but forcing refugees and asylum seekers out of the center is not the answer, and risks making their already desperate situation even worse. Repeated attacks and threats from some members of the local community have left refugees terrified of leaving the compound."
"The refugees have – understandably – protested the attempts to drive them into an even worse situation on Manus, and there is now a serious risk that peaceful protests will be met with excessive force by the PNG police. The police must respect their right to peacefully protest the closure of the center, and refrain from using violence as they have in the past.
"We are calling on the Australian authorities to immediately bring all refugees and people seeking asylum to Australia, and ensure that all those who were granted refugee status have the right to settle in Australia."