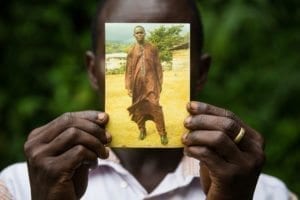 Authorities in Cameroon have shut down an Amnesty International press conference scheduled to take place in Yaoundé this morning. The press conference was calling attention to the case of three students who were sentenced to 10 years in prison for sending a sarcastic text about Boko Haram.
Security agents, in uniform and plainclothes, entered the hotel where the press conference was to take place and ordered the managers to close the venue. No written administrative justification was provided for the prohibition, although a written order was presented banning another event with partners in the afternoon.
"The aim of the press conference was to present more than 310,000 letters and petitions signed from people all across the world, asking President Paul Biya to release three students imprisoned for 10 years simply for sharing a joke by SMS about Boko Haram," said Alioune Tine, Amnesty International's West and Central Africa Director.
Cameroonian law requires a prior declaration informing the authorities of the organization of a public meeting. Amnesty International submitted a letter declaring their intention to host a press conference on May 19, and reminded authorities of the press conference three days later.
"These students have done nothing more than share a private joke, but their conviction and sentence could see them spend a decade behind bars and destroy their future prospects. We join more than 310,000 people across the world in calling on the authorities in Cameroon to release these students, allow them to re-join their families, and realize their dream of continuing their studies and finding a job," said Tine.
Another event planned for this afternoon by one of Amnesty International's local partners to discuss the human rights situation in the country was also prohibited. In a written decision dated May 23,, the prefect of the Yaounde 1 district held that "because of the threat of disruption of public order, the conference entitled "Human rights and the fight against terrorism in Cameroon", scheduled from 2 pm to 6 pm, is prohibited from taking place."
Background
In December 2014, Fomusoh Ivo received a text message from a friend, saying: "Boko Haram recruits young people from 14 years old and above. Conditions for recruitment: 4 subjects at GCE, including religion." His friend's message was intended as a comment on the difficulty of finding a good job without being highly qualified – joking that even the armed group Boko Haram would not recruit those without good exam results.
Ivo forwarded the message to Afuh Nivelle Nfor, who sent it to Azah Levis Gob. One of their teachers saw the text, having confiscated the phone, and showed it to the police. Ivo and his friends were all arrested.
They were transferred to the prison in Yaoundé on January 14, 2015 and kept with their legs chained at the ankles. They were charged on May 3 under Cameroon's Penal Code and the Code of Military Justice and their chains were only removed in April 2015 when their lawyers made a request to the investigating judge.
As part of the organization's annual Write for Rights campaign in 2016, over 310,000 letters and petitions were signed by people across the globe asking that Fomusoh Ivo Feh and his friends, Afuh Nivelle Nfor and Azah Levis Gob, be immediately released.
The three students were found guilty of 'non-denunciation of terrorism acts' on November 2, 2016.  They have appealed their conviction and sentence. The appeal is now set for June 15, after several delays.
Celebrities such as Richard Branson, founder of Virgin Group, and Patrick Mboma, a former Cameroonian football striker and Fomusoh Ivo's favorite football player, sent letters to the authorities, solidarity messages to Ivo and his two friends in prison and tweeted about the case.