RUSSIA – FILMMAKER & ESSAYIST
SENTENCED TO 20 YEARS
RELEASED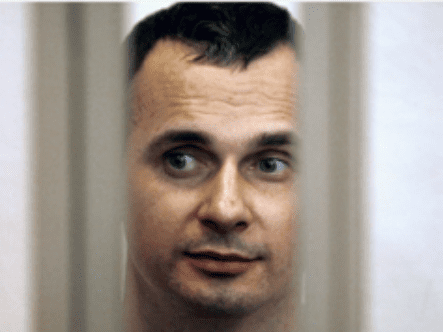 Oleg Sentsov is a Ukrainian film director who was sentenced on August 25, 2015 to 20 years imprisonment for allegedly setting up a branch of a 'terrorist group' and organizing 'terrorist acts' in April 2014. His conviction in a military court in Russia followed a grossly unfair trial, on politically-motivated charges, and was based on "confessions" obtained through torture. During his arrest by the Russian State Security (FSB), Oleg was tortured by FSB by putting a plastic bag over his head until he passed out. They also threatened him with rape and murder, which forced Sentsov to "confess" to organizing explosions, acts of terrorism, and illegal possession of firearms.
Sentsov's rights were violated throughout his arrest, detainment, and trial. In violation of international humanitarian law, Sentsov was transferred to and faced trial in Russia, despite being arrested in Crimea and being a Ukrainian citizen. Sentsov was also denied access to his Russian lawyer for five days after being transferred to Russia. Additionally, he has not been given access to the Ukrainian Consul in Russia, which also violates international law.
On May 14, 2018 Sentsov declared he was going on an indefinite hunger strike until all Ukrainian political prisoners are released in Russia. Sentsov ended his hunger strike after 145 days, citing the "critical state of his health" and the impending threat of hospitalization and force-feeding. He lost over 30 kg. Two weeks later, on October 25, 2018, Sentsov was awarded the Sakharov Prize for Freedom of Thought from the European Parliament.
As a filmmaker, Sentsov may be best known for his film Gamer as well as two short films, A Perfect Day for Bananafish and The Horn of a Bull. According to PEN America, "his writings include scripts, plays, and essays, and he has continued to produce prolifically from prison."
Oleg Sentsov is the winner of the 2017 PEN/Barbey Freedom to Write Award.
More Info: We Stand with Oleg Sentsov (Amnesty International) | PEN America – includes letters from prison in 2016 & 2017; Key Writing and Video from linked PEN America
Documentary Film Available: The Trial: The State of Russia vs Oleg Sentsov; film trailer available from Human Rights Watch.
---