HUMAN RIGHTS ON CAPITOL HILL
Table of Contents
september 2022 NEWSLETTER
FEATURED: security with human rights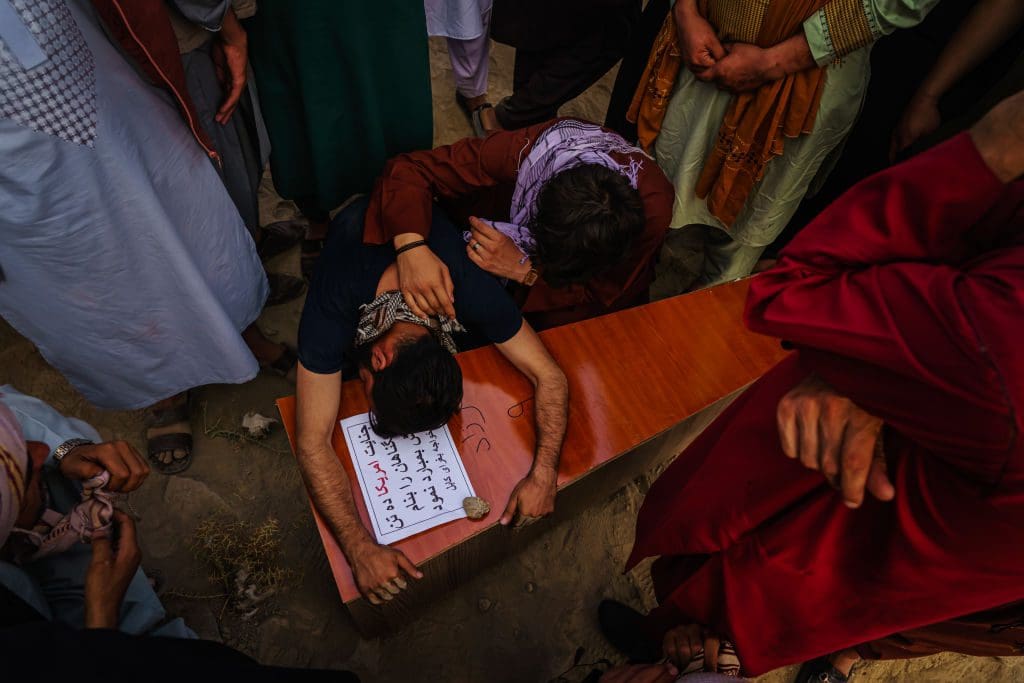 A relative weeps over the casket of Farzad, a 12-year-old killed by a U.S. drone strike in Kabul, Afghanistan, in August 2021. (Photo by Getty Images)
LETHAL FORCE



As part of its "global war on terror" the U.S. government has been using lethal force, including drone strikes, to target suspected members of armed groups around the world. U.S. forces have killed thousands of civilians in the process with no real accountability. While Amnesty International USA applauds the Department of Defense for developing a new policy to better protect civilians, Congress should ensure those improvements become law and cannot be reversed by a new administration. Lawmakers should therefore support all provisions in the National Defense Authorization Act (NDAA) for 2023 that create more transparency and accountability in how the U.S. uses lethal force and how it investigates and responds to civilian harm it causes. 
Members of Congress should also support the proposal to create an independent commission to review how the U.S. has used lethal force in the past, why it has killed so many civilians, and why so few have received any assistance from the U.S. The new Defense Department policy does not address past harms, and it is crucial that Congress investigate those harms to recommend effective responses and to ensure the U.S. learns from its past mistakes. 
GUANTÁNAMO



A legacy of the "war on terror," the Guantánamo Bay prison has been detaining men without charge or trial since 2002. Although there is bipartisan agreement that the offshore prison should be closed, Congress has obstructed the government's ability to do this by restricting where the remaining 36 detainees can be sent, including 20 detainees whom U.S. security agencies have cleared for release. Members of Congress must support lifting those restrictions in the NDAA for 2023 so the Biden administration can finally close the Guantánamo Bay detention center and end the unconscionable practice of indefinite detention once and for all. 
CONGRESS MUST PASS AFGHAN ADJUSTMENT ACT



Amnesty International USA is overjoyed to see the bipartisan introduction of the Afghan Adjustment Act (H.R.8685, S.4787). We are grateful to Sens. Amy Klobuchar (D-MN), Lindsey Graham (R-SC), Chris Coons (D-DE), Roy Blunt (R-MO), Richard Blumenthal (D-CT), and Lisa Murkowski (R-AK) and Reps. Earl Blumenauer (D-OR), Peter Meijer (R-MI), Jerrold Nadler (D-NY), Adam Kinzinger (R-IL), Zoe Lofgren (D-CA), Mariannette Miller-Meeks (R-IA), Jason Crow (D-CO), Fred Upton (R-MI), and Scott Peters (D-CA) for their leadership on this critical legislation. The Afghan Adjustment Act would provide a roadmap to citizenship for Afghans residing in the United States. We encourage lawmakers to cosponsor, and for Congress to pass this urgent legislation.
On Aug. 26, Amnesty International researchers verified photos appearing to show cages being built inside the Mariupol Philharmonic Hall to allegedly restrain Ukrainian prisoners who will be put on trial. Any moves by Russian-backed armed groups to try Ukrainian prisoners of war in a so-called "international tribunal" in Mariupol are illegal and a further act of cruelty against a city that has already suffered extensively under Russian attacks.
Russia continues to suppress freedoms in the Crimean Peninsula, a territory of Ukraine that Russian forces occupied and illegally annexed in 2014. On Jul. 15, the Bar Association of the Chechen Republic disbarred three lawyers in retaliation for defending Crimean Tatar activists against politically motivated charges. Members of the legal community in Crimea have faced growing reprisals under Russian occupation and the disbarment of the three lawyers sends yet another chilling warning.
Amnesty International USA calls on the Biden administration to use all available multilateral fora to demand Russia respect the human rights of Ukrainian prisoners of war and to continue to push for accountability for rights violations in the Crimean Peninsula and in separatist-controlled Eastern Ukraine.
A regularly updated list of Amnesty-verified attacks in Ukraine is available here. For more information, please contact Daniel Balson at [email protected].
As Russia continues its war of aggression against Ukraine, it also fights a battle on the "home front" against those who criticize the war. On Sep. 2, Amnesty International published the stories of ten people who are in detention today because of their public criticism of the war. Dozens more are facing prosecution for the same reason. As a crucial part of the international effort to end Russia's catalog of abuses, the U.S. government should support the voices of those in Russia who actively oppose its aggression in Ukraine