HUMAN RIGHTS ON CAPITOL HILL
As the Russian government continues to amass troops on its border with Ukraine, Amnesty International has warned that Russia's decision to again use armed force in Ukraine would have a devastating effect on civilians. Amnesty researchers have documented numerous violations of international humanitarian law, including war crimes, as part of Russia's recent military interventions abroad, including in Georgia, Syria, Crimea, and the Donbas. 
The current buildup of forces has already had a notable impact on the rights of Ukrainians, especially older persons, children and persons with disabilities who have difficulty securing basic necessities in the face of rising prices. Moreover, human rights violations in Crimea, occupied and illegally annexed by Russia since 2014, and the Donbas, where the Russian government backs separatist militias, continue apace. In both of these regions, Russian security services and Russia-backed militias have detained journalists and engaged in a campaign of enforced disappearances. To date, rights abusers have faced no consequences in Crimea and in the separatist-controlled Donetsk and Luhansk regions.
Amnesty International is calling on Congress and the U.S. government to: 
Allocate funding to support embattled activists in affected areas, in case of conflict.

Identify individuals who may face retaliation for the peaceful activism and, if necessary, provide for their safe exit out of Ukraine.

Dedicate extra resources and attention to Ukrainian members of minority groups likely to face discrimination and abuse at the hands of Russian officials, including LGBTI Ukrainians and Jehovah's Witnesses. 

Work through multilateral organizations such as the Organization for Security and Cooperation in Europe ("OSCE"), to monitor rights violations resulting from any conflict.

Continue to push for accountability for human rights violations in the Crimean Peninsula and in separatist-controlled Eastern Ukraine.
CRIME OF APARTHEID:
The Israeli Government's System of Domination Over Palestinians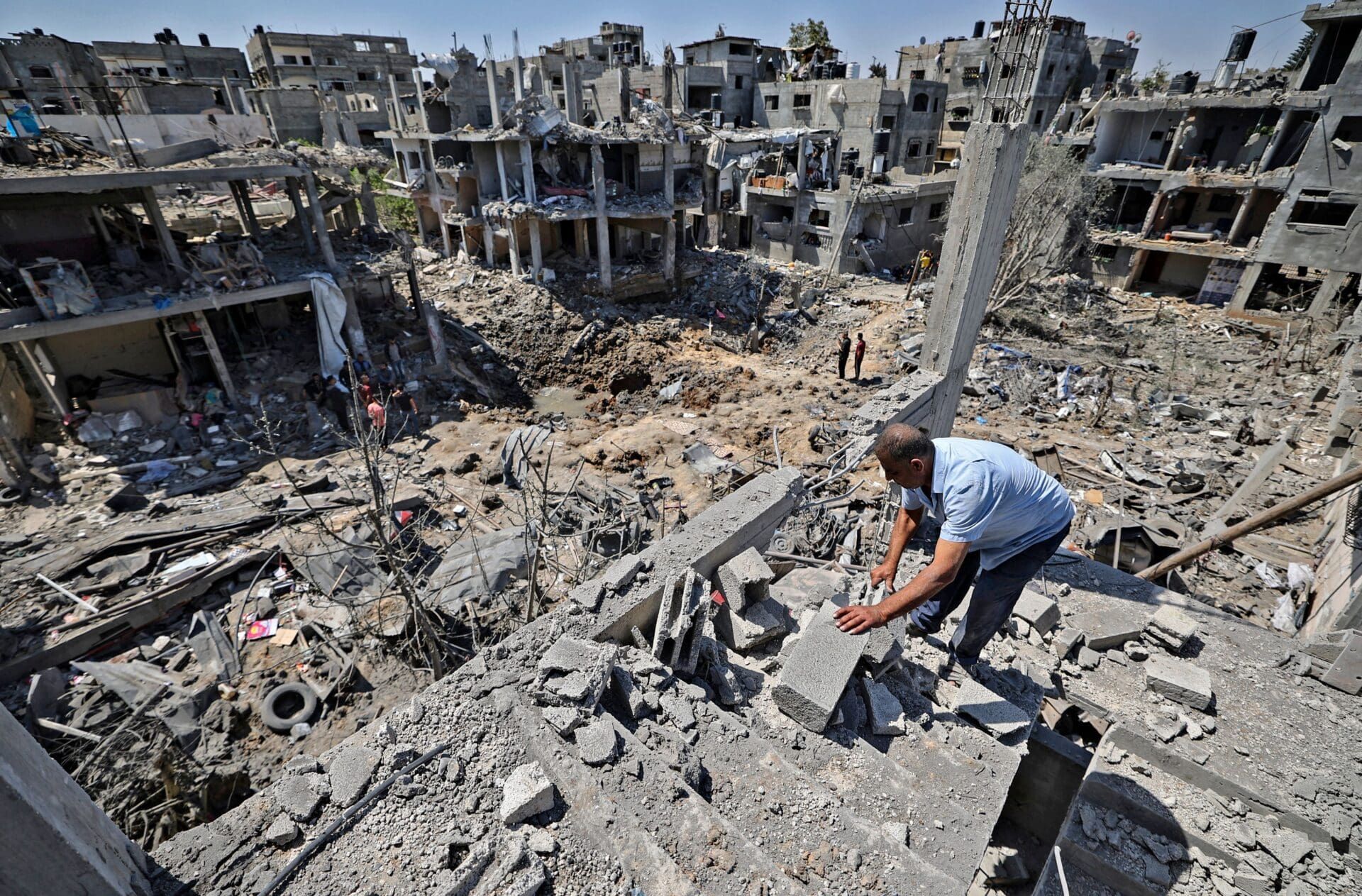 Palestinians assess the damage caused by Israeli air strikes in Beit Hanun, northern Gaza Strip, on May 14, 2021. (Photo by Mahmud Hams/AFP via Getty Images)
Amnesty International released a Feb. 1 report documenting the Israeli government's ongoing human rights abuses against Palestinians. The core finding of this years-long research is that the Israeli authorities are committing the crime against humanity of apartheid, both in the Occupied Palestinian Territories ("OPT") and in Israel, and against Palestinian refugees in other countries. 
The Amnesty International report makes clear that it is the Israeli government—not Israelis, and not the Jewish people—who have implemented and perpetuated this system of oppression. The U.S. government, as a crucial ally, has both the opportunity and the obligation, under domestic and international law, to press Israeli authorities to end these violations, to bar security aid from flowing to rights human rights offenders, and to ensure those responsible for crimes against humanity are held accountable. 
As a global movement, Amnesty International depends on the rigor, objectivity, and credibility of our research to advance human rights around the world. It is our strong belief that this research will lend itself to the larger global call for justice, accountability, and human rights, for all people everywhere. 
We encourage you to review our recommendations below and to read the executive summary and full report here. Our experts are available to brief you in depth at your convenience. For more information, please email [email protected]. 
The Determination of Apartheid
Amnesty International's standards for this finding are based solely and exclusively on the stringent criteria that informs international law—not on any specific historical context the word evokes. The key components of the apartheid system imposed by the government of Israel are territorial fragmentation; segregation and control; dispossession of land and property; and denial of economic and social rights. 
Apartheid was first codified as a violation of international human rights law in 1965 with the adoption of the International Convention on the Elimination of All Forms of Racial Discrimination, which the U.S. ratified in 1994.
Previous Apartheid Determination in Myanmar 
In 2017, Amnesty International made a similar determination of apartheid in Myanmar in relation to the Rohingya. Our research concluded that a vicious system of state-sponsored, institutionalized discrimination perpetrated by Myanmar authorities amounted to apartheid against the Rohingya. As part of these findings, Amnesty issued a set of robust recommendations, including to third country governments such as the U.S. government, urging the use of all political and diplomatic tools to ensure Myanmar authorities dismantle the apartheid system and insisting on a review of any ongoing or planned police or security assistance to Myanmar to ensure human rights compliance.
Calls to the U.S. Government
In light of our findings, we urge the U.S. government to use all diplomatic leverage and legislative opportunity to insist that the Israeli government: 
End forced displacement of Palestinians via unlawful home demolitions, evictions, and settlement expansion in the OPT; cancel all standing eviction and demolition orders; and impose a moratorium preventing future orders.

End barriers to and politicizing of life-saving humanitarian aid to Gaza and all OPT.

Lift the blockade and barriers blocking Gazans' right to freely leave and return and end arbitrary restrictions on Palestinians' right of free movement across the OPT.

Release all arbitrarily detained Palestinians, including children—many held without charges.

Per

U.S. law

, support international investigations of violations committed in Israel and OPT by all parties, including Israeli authorities.
We urge President Biden to:
Press Israel's government to end its systematic campaign of forced displacement and settlement expansion and lift the unlawful Gaza blockade—including by withholding military aid and blocking imports from settlements.

Pursuant to the

Foreign Assistance Act

and Leahy Laws,

halt all arms sales

to the Israeli government pending an investigation and public report by relevant departments into documented use of U.S. arms in violations by Israeli forces.
We urge the U.S. Congress to:
Request a report from the Government Accountability Office ("GAO") on how U.S. support to the Israeli government is used to contribute to the commission of the crime of apartheid, other human rights violations, and war crimes.

Issue public calls, take legislative action towards, and request relevant federal agencies such as the State Department, Department of Defense, and GAO to issue reports on the above detailed matters, including towards the lifting of the unlawful blockade on Gaza and use of U.S. support and aid in Israeli authorities' unlawful campaign of settlement expansion, evictions, and demolitions.

If the administration fails to place human rights conditions on military aid, legislate to do so, in accordance with U.S. law, to ensure an end to violations of international law through the discriminatory system that segregates, restricts, and forcibly displaces Palestinians.
Click here to read Amnesty International's full list of calls for Congress and the U.S. government.
Commitment to the Jewish Community and Condemnation of Antisemitism
We recognize that some may conflate legitimate criticism of Israeli government policies with antisemitism. Amnesty International's research, campaigns, advocacy and statements pertaining to Israel are focused on the actions of the Israeli government—they are not, and never will be, a condemnation of Judaism or the Jewish people. Furthermore, we condemn anyone who would cynically cite our research as justification for committing antisemitic acts of hatred and violence.
Amnesty International USA condemns antisemitism in the strongest possible terms. Antisemitism attacks the very notion of universal human rights. It is antithetical to everything Amnesty represents as a human rights organization. 
sudan

In advance of a Feb. 1 Senate Foreign Relations Committee hearing on Sudan, Amnesty International submitted a statement for the record detailing our human rights concerns in the aftermath of the Oct. 2021 military coup. We urge Congress to pass legislation calling for an end to the Sudanese government's crackdown on free expression and for an independent investigation into the myriad violations by security forces. Amnesty also submitted a statement for the record for the Dec. Lantos Human Rights Commission hearing on the "Military Coup in Sudan: Implications for Human Rights."
MYANMAR
Feb. 1 marked one year since the Myanmar military deposed the democratically elected leadership in a coup, triggering months of protest, violent crackdowns, and humanitarian strife. Today conditions on the ground continue to deteriorate. The military has killed more than 1,400 civilians including nearly 100 children. 12,000 people have been arrested since the coup including children, journalists, teachers, and healthcare workers.
Myanmar is in the middle of a humanitarian collapse while the international community, including the U.S., fails to deliver meaningful support to people on the ground. Amnesty International supports the congressional call for the Biden administration to nominate a U.S. ambassador to ASEAN as soon as possible.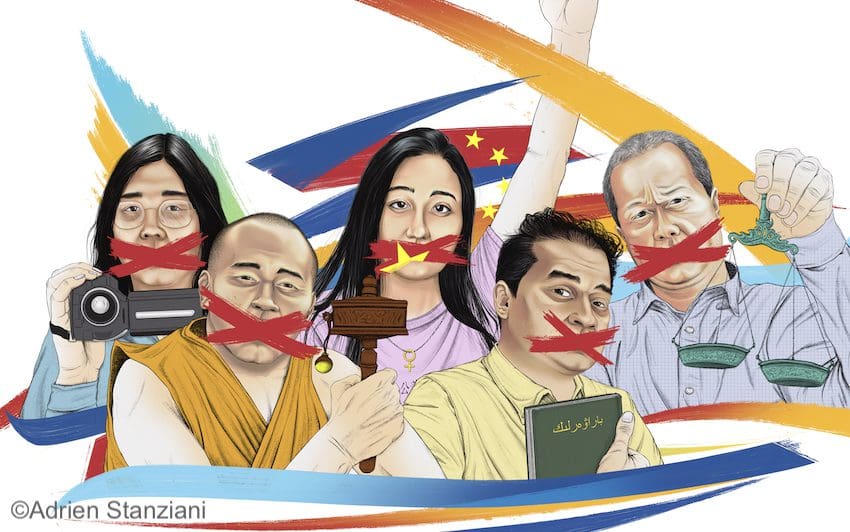 Ahead of the 2022 Winter Olympic Games, Amnesty urges Chinese authorities to drop all charges against those who are prosecuted for exercising their right to freedom of expression, including those human rights defenders pictured here: Zhang Zhan, Ilham Tohti, Li Qiaochu, Gao Zhisheng and Rinchen Tsultrim. (Illustration by Adrien Stanziani/Amnesty International)
china
In advance of the Feb. 4 opening ceremony of the 2022 Winter Olympic Games, Amnesty International USA urges the Biden administration to take action beyond its diplomatic boycott. U.S. officials and lawmakers must use all multilateral fora to press the Chinese government to drop charges against those who are prosecuted or detained solely for peacefully exercising their freedom of expression. Amnesty's Free the Five campaign details five crucial cases that highlight the scope and breadth of the Chinese government's human rights abuses.
yemen
Amnesty International determined the Saudi-led coalition used a precision-guided munition made in the U.S. in a Jan. 21 air strike on a detention center in Sa'adah, north-western Yemen. The attack killed at least 80 people and injured over 200. Amnesty has repeatedly found evidence of the use of U.S.-manufactured weapons in incidents that could amount to war crimes in Yemen. Congress must act urgently to block all transfers of arms, equipment, and military assistance to parties involved in the conflict. Amnesty calls for a congressional hearing into U.S. arms sales to the coalition and U.S. involvement in war crimes and other violations.