HUMAN RIGHTS ON CAPITOL HILL
Featured: Tigray and Ethiopia: One Year After the Outbreak of War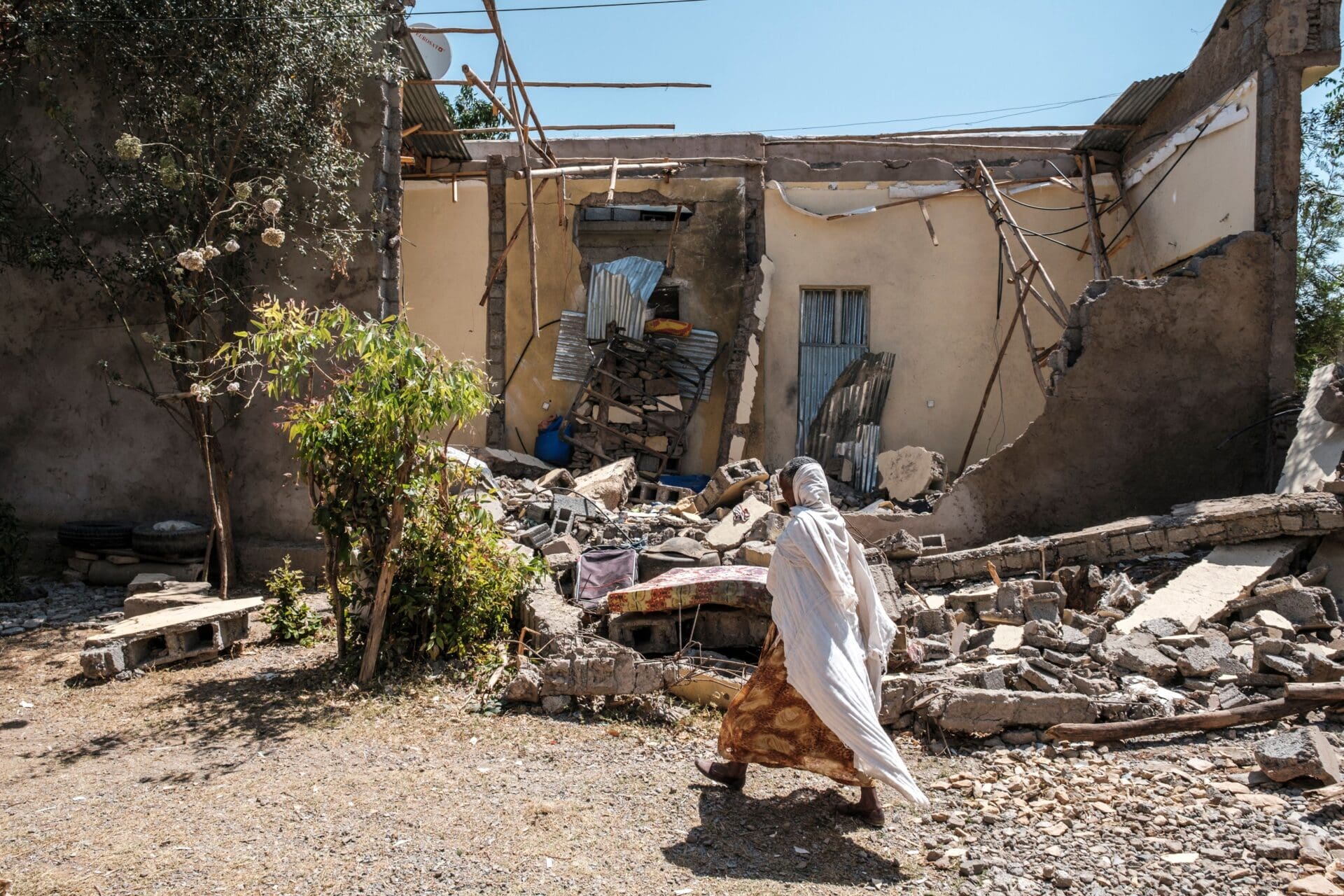 A woman walks past a damaged house which was shelled as federal-aligned forces entered the town of Wukro in Tigray, Ethiopia on March 1, 2021. (Photo by Eduardo Soteras/AFP via Getty Images)
Since November 2020, Ethiopia has been mired in a brutal war between the central government of Prime Minister Ahmed and the Tigray People's Liberation Front ("TPLF"). The conflict has spread outside of the Tigray region and has resulted in the deaths of thousands, with over two million displaced.
A Nov. 3 joint investigation by the UN and the Ethiopian Human Rights Commission found that all parties involved in the conflict have perpetrated grave human rights abuses including possible war crimes and crimes against humanity. The abuses documented in the report include extrajudicial executions, the destruction of homes and livelihoods, attacks against civilians, forced displacement, and widespread gender-based violence ("GBV"). Amnesty International has received reports of Ethiopian security forces targeting Tigrayans, including children and older persons, with ethnically motivated mass detention and arbitrary arrests.
Amnesty International calls on the U.S. government to secure unrestricted humanitarian access to Tigray and other regions. The U.S. government must continue to press the belligerents to respect human rights and to ensure accountability for abuses.
Congress should provide funding to support GBV survivors and to ensure that any engagement with the Ethiopian government or TPLF-allied forces, including arms sales and transfers, be conditioned on credible efforts to hold persons accountable for GBV.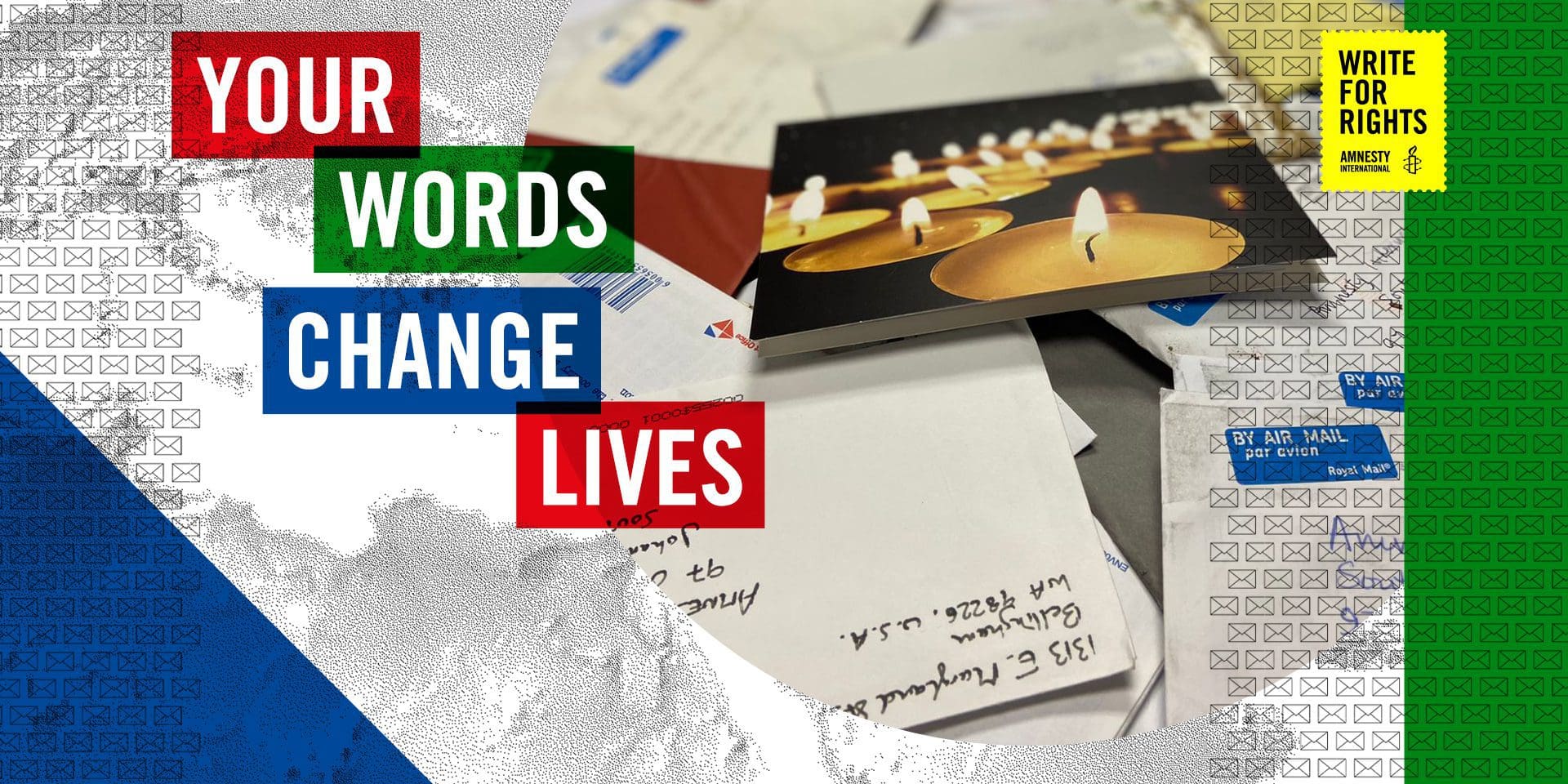 HUMAN RIGHTS LEGISLATION THAT CONGRESS MUST PASS IN DECEMBER

1.-BUILD BACK BETTER ACT: Amnesty International USA strongly supports the House passage of the Build Back Better Act ("BBB") (H.R.5376) which includes $5 billion in funding for community violence intervention programs in Black and brown communities across the country. The Senate must follow suit and swiftly pass BBB by the end of 2021.
2.- AFGHAN ADJUSTMENT ACT: Congress must provide a pathway to permanent residency for the Afghans who have arrived in the U.S. in recent months as part of Operation Allies Welcome. The Afghan Adjustment Act, modeled after the Cuban Adjustment Act, allows newly arrived Afghans to apply for permanent resident status, the same legal status they would have received had they been admitted as refugees. 
On Nov. 9-10 Amnesty International USA activists joined over 600 veterans, refugee advocates, faith groups, and Afghan diaspora to lobby Congress to pass an Afghan Adjustment Act. 
To learn more about the Afghan Adjustment Act, please see this backgrounder. To co-sponsor the Afghan Adjustment Act, contact Terrell Mwetta ([email protected]) in Rep. Blumenauer's office, or Saurabh Sanghvi ([email protected]) in Sen. Coons's office and Erin Chapman ([email protected]) in Sen. Klobuchar's office.
3.-WOMEN'S HEALTH PROTECTION ACT: Access to safe abortion is a human right and limiting people's access to safe abortion care puts their health and lives in jeopardy. The Women's Health Protection Act ("WHPA") of 2021 (H.R.3755, S.1975) would protect the right to access abortion care throughout the U.S., including the right to access abortion free from mandatory waiting periods, biased counseling, two-trip requirements, and mandatory ultrasounds. Amnesty International USA lauds the House's passage of WHPA and calls on the Senate to swiftly follow suit.
4.-DIGNITY FOR DETAINED IMMIGRANTS ACT: Amnesty International USA urges Congress to pass the Dignity for Detained Immigrants Act (S.1186, H.R.2222), which eliminates the blanket use of immigration detention, promotes humane community-based alternatives to detention, eliminates the profit motive in detention, ends solitary confinement, and strengthens transparency and accountability.
Amnesty International USA is deeply concerned that Homeland Security ("DHS") continues to block and expel asylum-seekers at the southern border and unjustly detain others under dangerous and inhumane conditions under DHS custody. Congress should press the administration to end the use of arbitrary, mass immigration detention, restore access to asylum, and ensure protections for all people seeking safety in the U.S. 
5.-NATIONAL DEFENSE AUTHORIZATION ACT: Twenty years after the 9/11 terror attacks, the U.S. has yet to close the Guantanamo Bay detention center and to end the egregious human rights abuse of indefinite detention of Muslims without charge or trial. Congress should ensure that the final NDAA package does not include restrictions on transferring detainees to the U.S. as needed.
WHAT SHOULD CONGRESS DO TO COMMEMORATE HUMAN RIGHTS DAY (DEC. 10)?

The Universal Declaration of Human Rights ("UDHR") is a global roadmap for freedom and equality. Following World War II, the world's leaders came together and agreed on the freedoms and rights that deserve universal protection, in order for all individuals to live with freedom, equality, and dignity. 
In celebration of the 73rd anniversary of the UDHR, Amnesty International urges all members of Congress to: 
Make speeches and statements calling on leaders, in the U.S. and around the world, to protect 

peaceful protesters

and to safeguard the rights to free assembly, association, and expression.

Take part in

Write for Rights

, Amnesty International's largest annual letter writing campaign on behalf of human rights defenders and 

prisoners of conscience

. Visit

write.amnestyusa.org

to learn more about

Zhang Zhan

jailed in China for reporting on COVID-19;

Bernardo Caal

,

an environmental human rights defender jailed for peacefully protecting his land in Guatemala.
What's Coming Down the Pike
AMNESTY INTERNATIONAL USA TESTIFYING AT LANTOS COMMISSION HEARING ON SRI LANKA

Dec. 8 at 3:30 pm EST, Asia Advocacy Director Carolyn Nash will be testifying at a Tom Lantos Human Rights Commission hearing on accountability and human rights in Sri Lanka. Click here for more information.
AMNESTY INTERNATIONAL USA REOCGNIZED AS TOP GRASSROOTS LOBBYISTS

On Dec. 1 The Hill announced the top grassroots lobbyists of 2021—including Amnesty's Joanne Lin, Daniel Balson, and Philippe Nassif.
NEW AFRICA FELLOW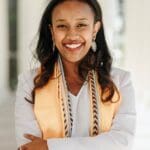 In October, Makeda Fikremariam joined Amnesty International USA as our new Almami Cyllah Fellow for Human Rights in Sub-Saharan Africa. Makeda previously worked as a research intern at the Foundation of Human Rights in Kampala, Uganda. 
issues
Digital Rights: Michael Kleinman Gender / Indigenous Rights: Tarah Demant National Security: Daphne Eviatar Human Rights Defenders: Andrew Fandino U.S. Criminal Justice: Krissy Roth COVID-19, Gun Violence, and all Other Issues: Joanne Lin