SAUDI ARABIA
DETAINED SINCE MAY 2018
---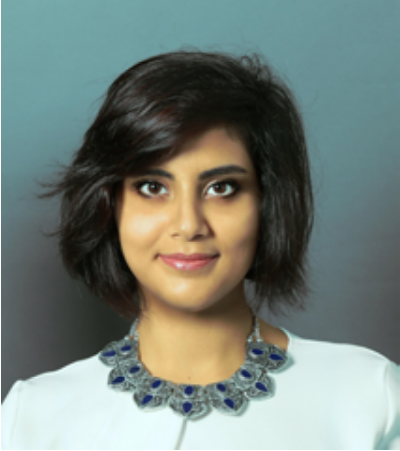 Loujain al-Hathloul is one of the most prominent and outspoken women human rights defenders in Saudi Arabia; much of her activism is conducted via commentary on social media. She is well known for her campaigning against the driving ban, including posting videos of herself driving as part of a 2013 campaign, and the campaign to end the male guardianship system. In 2014, she was detained for 73 days after she attempted to drive into Saudi Arabia from the United Arab
Emirates. According to a December 2014 Guardian article, al-Hathloul drew the attention of the Saudi government after "posting a video of herself driving home from Riyadh airport". al-Hathloul also "made waves" on Saudi social networks several months before that by "posting a video of herself with her face and hair uncovered, in defiance of her country's ultra-conservatives".
Loujain al-Hathloul went on to stand for election in Saudi Arabia on November 2015 – the first time women were allowed to both vote and stand in elections in the state. However, despite finally being recognized as a candidate, her name was never added to the ballot.
Saudi officials detained Loujain al-Hathloul on May 15, 2018. For the first 10 months of her detention, she was held without charges or trial. Loujain was detained along with 11 other women rights activists since May 2018. She was held incommunicado with no access to her family or lawyer during the first three months of her detention. During that time, Loujain was beaten, waterboarded, given electric shocks, sexually harassed, and threatened with rape and murder. On her first trial session on March 13, 2019, she was charged with promoting women's rights; calling for the end of the male guardianship system; contacting international organizations, foreign media, and other activists, including contact with Amnesty International. Her last court appearance was on April 3, 2019. She remains in prison pending the next court session. Diplomats and journalists have been consistently banned from attending the court sessions.
---
More Info & Writing Available
PEN America | Edinburgh International Book Festival | Related AI Info & GIF
---