March 1st – March 5th
We can abolish the federal death penalty once and for all. The time is now. Join us for a week of activities to demand your Representative co-sponsor House bills H.R. 262 and H.R. 97!
MONDAY
The Time is Now: Death Penalty Abolition in the New Congress
March 1st at 7pm EST
Join us for a teach-in and riveting conversation about the urgent need of death penalty abolition. We'll be joined by Ron Wright, a man exonerated from death row after spending three years on Florida's death row for a crime he did not commit. We'll end with a solidarity action for people currently on death row.
---
TUESDAY
Social Media and Virtual Awareness Campaign
March 2nd
We're all on Zoom these days, and we can strategically raise awareness about abolishing the federal death penalty. Change your Zoom background and post on social media about your support for H.R. 262 & H.R. 97.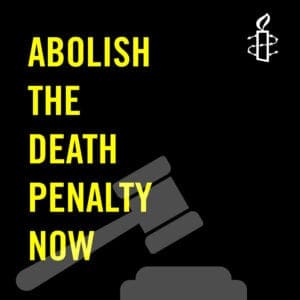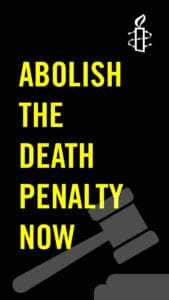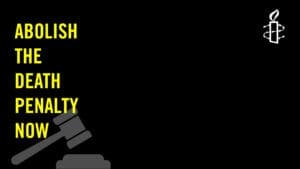 ---
WEDNESDAY
How to Talk Abolition: A Direct Action and Advocacy Workshop

March 3rd at 7pm EST
Learn skills on how to effectively influence legislators toward death penalty abolition.
---
THURSDAY
Phone Zaps

March 4th
Today we want to make some noise! Call your House Representative and tell them to co-sponsor H.R. 262 and H.R. 97. Dial 1-844-879-0282 to be connected to your Representative!
Here's a sample call script!
"Hello, my name is [YOUR NAME], and I am a constituent of [Representative X] and supporter/member of Amnesty International USA. I am calling to ask the Representative to please co-sponsor H.R. 97 and H.R. 262. As a member of Amnesty International USA, and I strongly support these bills to abolish the federal death penalty. The right to be free from execution is a basic human right, and Amnesty sees this as a core human rights issue. Please let me know if I can answer any questions. Thank you."
---
FRIDAY
Vigil for All on Death Row

March 5th at 1pm EST
During this time together, we'll remember that death row is fundamentally flawed system that delivers cruel, inhuman, and degrading punishment. This vigil will remind us that the death penalty should be abolished, once and for all.