The following information is based on the Amnesty International Report 2022/23. This report documented the human rights situation in 149 countries in 2022, as well as providing global and regional analysis. It presents Amnesty International's concerns and calls for action to governments and others.
Human Rights overview 2022
Officials failed to uphold the rights to freedom of expression, peaceful assembly and association. Many independent human rights organizations were not allowed to operate and many civil society actors remained in exile. Targeted attacks by security forces and the Imbonerakure (the ruling party's youth wing) continued against government critics and members of the opposition, including arbitrary arrests and detention and enforced disappearances. Detainees' rights were violated. The Truth and Reconciliation Commission faced accusations of bias. The government's failure to address fuel shortages and an ill-advised decision to ban bicycles, tricycles and motorbikes from Bujumbura's city center adversely affected the cost of living, impacting social and economic rights. Some returning refugees were subjected to harassment, intimidation and attacks.
BACKGROUND
In February, the EU lifted sanctions imposed on Burundi under Article 96 of the Africa Caribbean and Pacific Partnership Agreement in 2016. Relations with neighboring Rwanda continued to improve, and in March the president received a visit from the Rwandan minister of defense, who bore a special message from his president in a bid to normalize bilateral relations. In May, the president of the Democratic Republic of the Congo (DRC) made an official visit amid concerns about the Burundian army and Imbonerakure conducting military operations against Burundian armed groups inside the DRC. The Burundian authorities continued to deny access to and fail to cooperate with regional and international human rights mechanisms, including the African Commission on Human and Peoples' Rights (ACHPR) and the UN Human Rights Council. According to OCHA, 1.8 million of the country's 13 million population needed humanitarian assistance in 2022.
FREEDOM OF EXPRESSION, ASSOCIATION AND ASSEMBLY
Officials failed to uphold the rights to freedom of expression, peaceful assembly and association. In March, law enforcement authorities shut down a press conference organized by the civil society organizations Words and Actions for the Awakening of Consciences and the Evolution of Mentalities (PARCEM) and the Anti-corruption and Economic Malpractice Observatory (OLUCOME). During the conference, participants had denounced Ministry of Interior measures banning bicycles, tricycles and motorcycles from Bujumbura city center. The Truth and Reconciliation Commission proposed a genocide denier bill in March to punish anyone who denied the 1972 genocide against the Hutu in Burundi. The bill, if enacted, poses the risk of further restrictions to the already shrinking civic space and repression of the right to freedom of expression. In June, third anniversary celebrations for the main opposition National Congress for Freedom (CNL) party were banned in several provinces. Security forces and members of the Imbonerakure disrupted several CNL meetings, including in Gitega province in July, where a group of alleged Imbonerakure, accompanied by the local authorities, accused the party of holding a clandestine and unauthorized meeting. CNL offices were damaged, two were burnt down in Ruyigi province and CNL attempts to form an opposition parliamentary group were initially met with opposition from the president of the National Assembly. In September, the ACHPR chairperson wrote to President Ndayishimiye, requesting provisional measures in the case against 12 human rights defenders and journalists (Marguerite Barankitse, Dieudonné Bashirashize, Arcade Havyarimana, Patrick Mitabaro, Innocent Muhozi, Patrick Nduwimana, Pacifique Nininahazwe, Armel Niyongere, Gilbert Niyonkuru, Anne Niyuhire, Vital Nshimirimana and Bob Rugurika), all living in exile. They had been falsely accused of participating in the May 2015 attempted coup d'etat and sentenced by the Supreme Court in their absence to life in prison in June 2020, in a decision only made public in February 2021.
ARBITRARY ARRESTS AND DETENTIONS
The authorities and the Imbonerakure continued to target CNL members, brutalizing, arresting and illegally detaining them. Christophe Sahabo, managing director of the Kira Hospital in Bujumbura, was arrested in April, alongside French national Jean-David Pillot, chair of the hospital's board of directors. The latter was released after one night in detention, but Christophe Sahabo remained in detention for several days without access to his family or lawyers of his choosing. He was detained in a National Intelligence Service (SNR) cell where he spent more than 30 days before being presented to a magistrate and transferred to Mpimba prison. On 29 September, he was transferred to the Ruyigi prison, approximately 160km from Bujumbura where his case was registered. His family and lawyers alleged that he was put under pressure and forced to resign from his role at Kira Hospital over unsubstantiated claims of fraud, money laundering and forging documents. One of his lawyers said that a recent financial audit, commissioned by Kira Hospital interim officials, found no wrongdoing on Christophe Sahabo's account. On 27 September, his brother, Etienne Sahabo, and his lawyer Sandra Ndayizeye, daughter of the former president Domitien Ndayizeye, were arrested and accused by the prosecutor general of forging the minutes of the Kira Hospital's general assembly meeting that reinstated Christophe Sahabo as the director. Sandra Ndayizeye was released on 7 October after renouncing her representation of Christophe Sahabo.Etienne Sahabo was also released the same day. In December, the Supreme Court quashed lawyer Tony Germain Nkina's five-year prison sentence and ordered a retrial in connection with his June 2021 conviction for "collaborating with rebels who attacked Burundi". He was released a week later after the Court of Appeal of Ngozi acquitted him. Arrested in October 2020, he had been falsely accused of endangering state security.
DETAINEES' RIGHTS
The authorities continued to violate the rights of detainees. Detention conditions fell short of international human rights standards; facilities were severely overcrowded and food, water and healthcare were inadequate. Prisoners and human rights defenders denounced ration cuts imposed by the prison authorities from July onwards. This situation was aggravated by the continuing increase in the prison population. According to human rights defender Pierre Claver Mbonimpa, food provided by the authorities was enough to feed only 4,294 inmates, while the prison population was estimated to be more than 12,000. The authorities were yet to conduct an effective investigation into a fire at Gitega prison in December 2021 which killed at least 38 people, according to official accounts. The facility, designed to house 400 inmates, held more than 1,200. Throughout the year, the prosecutor general presided over the release of prisoners accused of minor infractions as directed by President Ndayishimiye in 2021 in an effort to reduce overcrowding. According to officials, at least 60 inmates were released in the capital, Gitega, as of June. In Mpimba prison in Bujumbura, 111 prisoners, including five women, were granted provisional release in June. In November, the minister of justice issued an internal notice to all departments on prison overcrowding, calling on them to implement the president's directive to release pretrial detainees accused of minor infractions. André Ndagijimana, a CNL member, died at Ngozi Hospital in July while in police custody. He had been denied access to appropriate healthcare.
ENFORCED DISAPPEARANCES
Although the number of enforced disappearances decreased, critics of the government and the ruling party remained at great risk of such crimes. Jean de Dieu Ndasabira, a CNL member, went missing in June. Local organizations that documented his case believed he was picked up at his workplace in Bujumbura by SNR officers. The authorities had not provided information on any investigations into his disappearance by the end of the year.
RIGHT TO LIFE
Burundian human rights organizations continued to report the discovery of bodies in rivers across the country; the security forces and the Imbonerakure are believed to be responsible for the killings. The authorities failed to investigate these allegations. In June, a local youth official of the CNL party, Jean Claude Ntirampeba, was found dead near the Rusizi river. There were clear signs on his body that he had been murdered.
RIGHT TO TRUTH, JUSTICE AND REPARATION
The Truth and Reconciliation Commission has long been accused of bias. Its methodology and manner of exhuming bodies continued to be contested by human rights groups and was seen by many Burundian and international actors as part of the ruling party's narrative to portray the Hutu as the sole victims of the 1972 massacres, without investigating other atrocities.
ECONOMIC, SOCIAL AND CULTURAL RIGHTS
Since August 2021, the authorities failed to secure fuel supplies, causing paralysis to economic activity, a sharp rise in inflation, rising food prices and scarcity of public transport in major cities, which prevented many healthcare professionals, students, public servants and private sector workers from reaching work. The public transport crisis was compounded by the interior ministry's ban in March on bicycles, tricycles and motorcycles in Bujumbura city center (see above, Freedom of expression, association and assembly). Local media reported abuses by the Imbonerakure, local officials and security forces who extorted motorists by demanding money to avoid long queues for fuel.
REFUGEES' AND MIGRANTS' RIGHTS
According to UNHCR, the UN refugee agency, there were 258,272 Burundian refugees in neighboring countries and more than 80,000 internally displaced refugees in neighboring countries and more than 80,000 internally displaced people inside Burundi. UNHCR facilitated the return of 16,621 Burundian refugees mainly from the DRC, Rwanda and Tanzania. Local media and human rights organizations continued to report cases of harassment and targeted attacks against returnees by the Imbonerakure and local officials.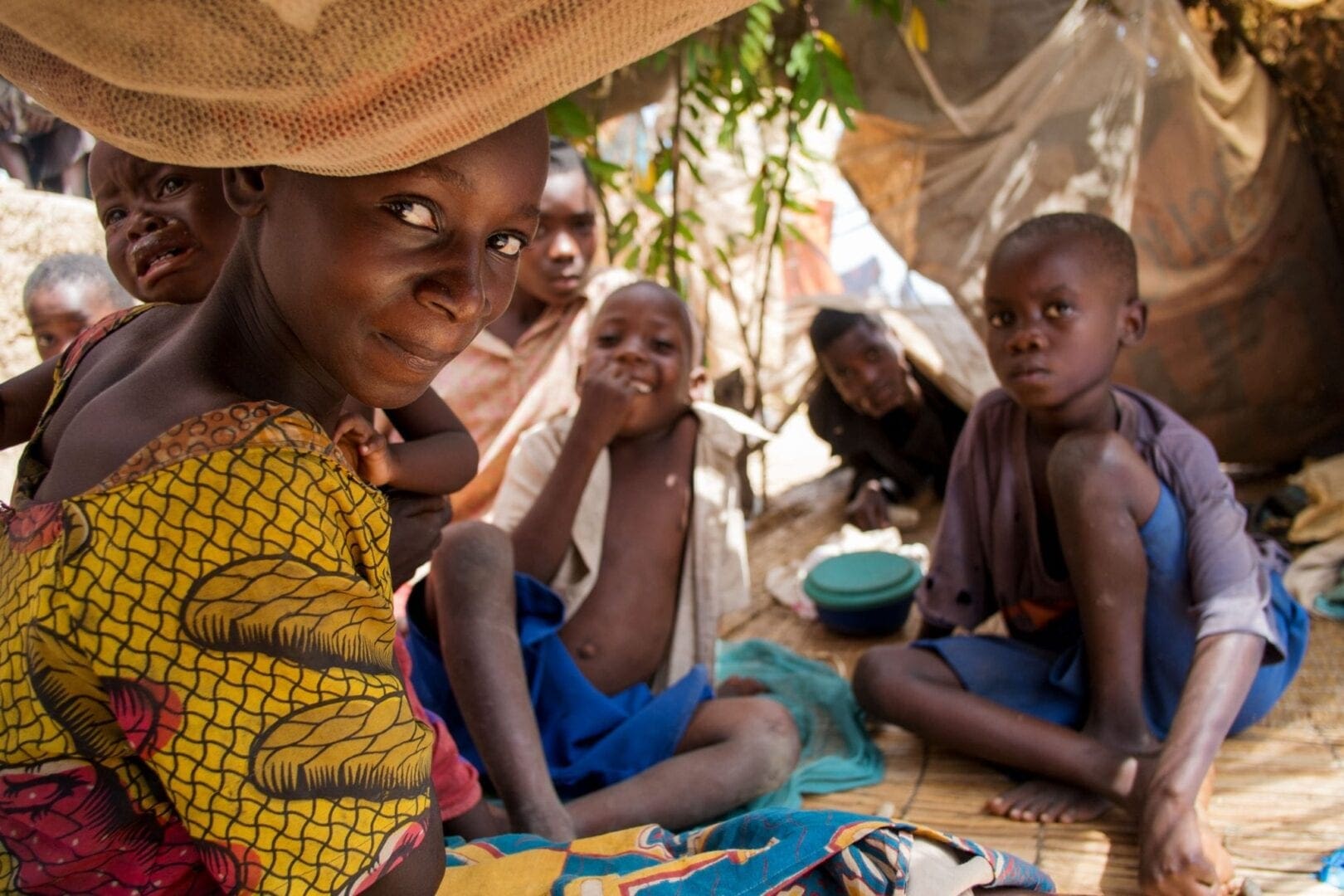 Report
Conform or flee: Repression and insecurity pushing Burundians into exile
September 28, 2017 – Burundi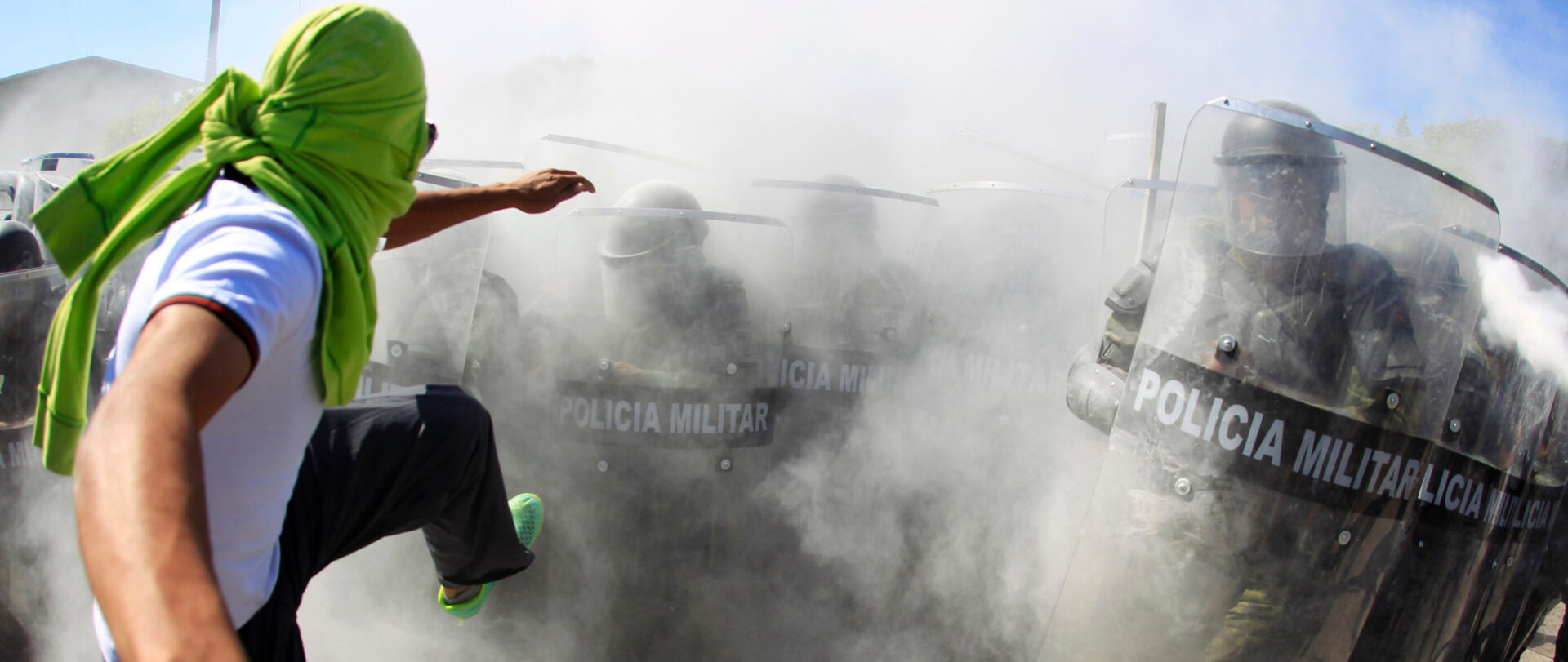 Report
Amnesty International State of the World 2015-2016
February 18, 2016 – Annual Report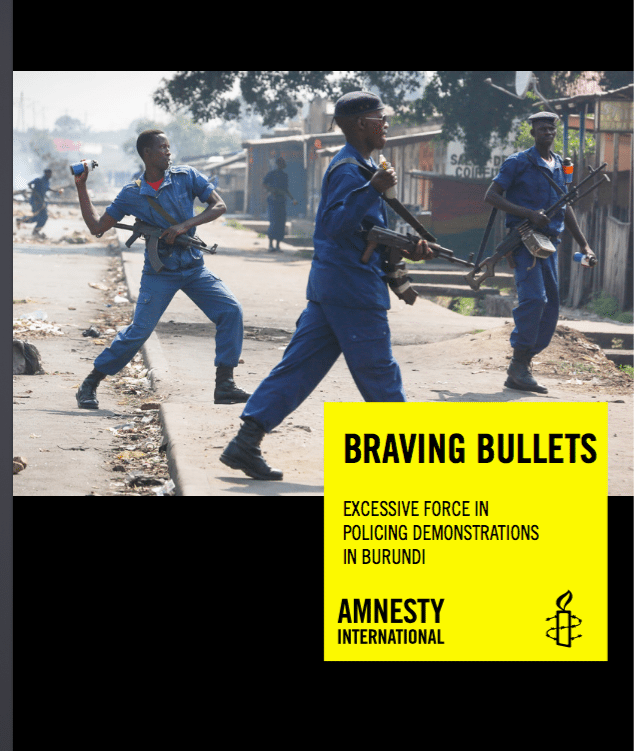 Report
Braving Bullets – Excessive force in policing demonstrations in Burundi
July 22, 2015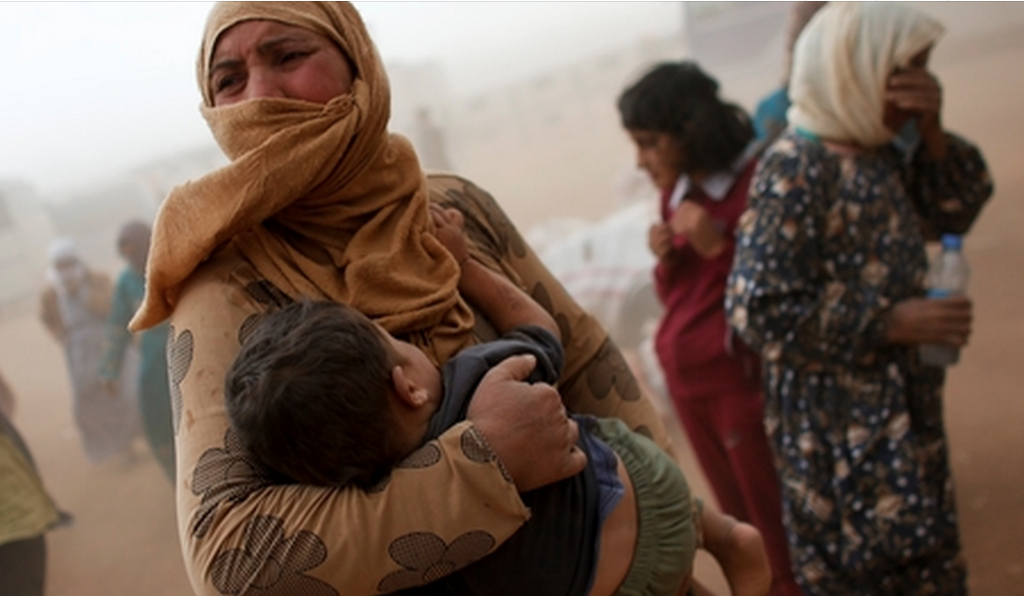 Report
State of the World 2014/2015
February 25, 2015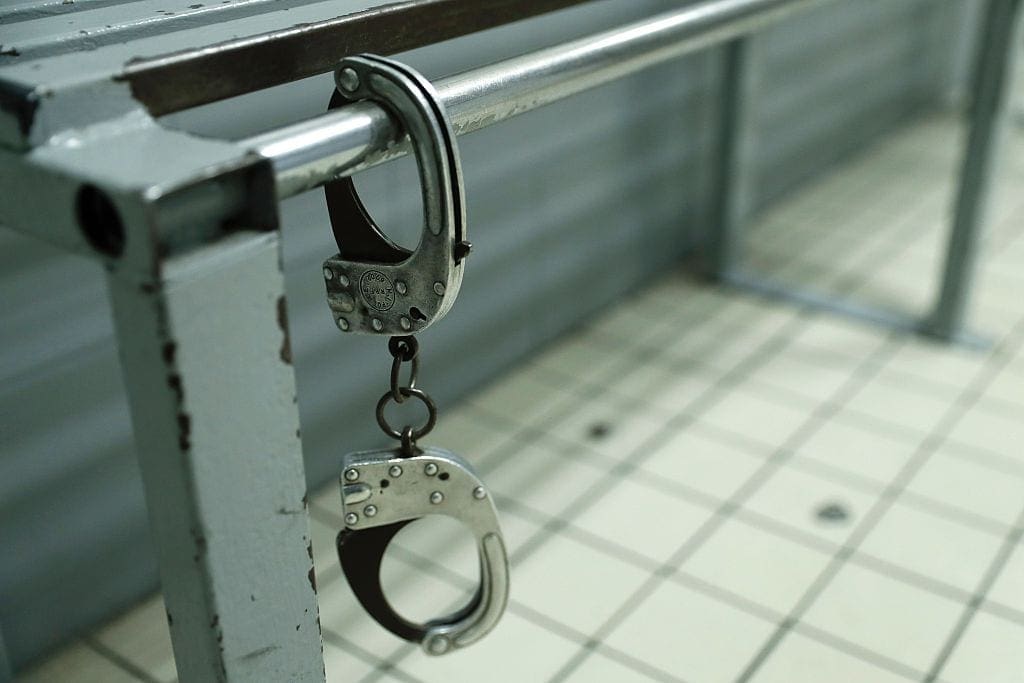 Press Release
Abuse of Protesters and Prisoners Highlights Urgent Need to Regulate Torture Tools
December 10, 2020 – abuses by law enforcement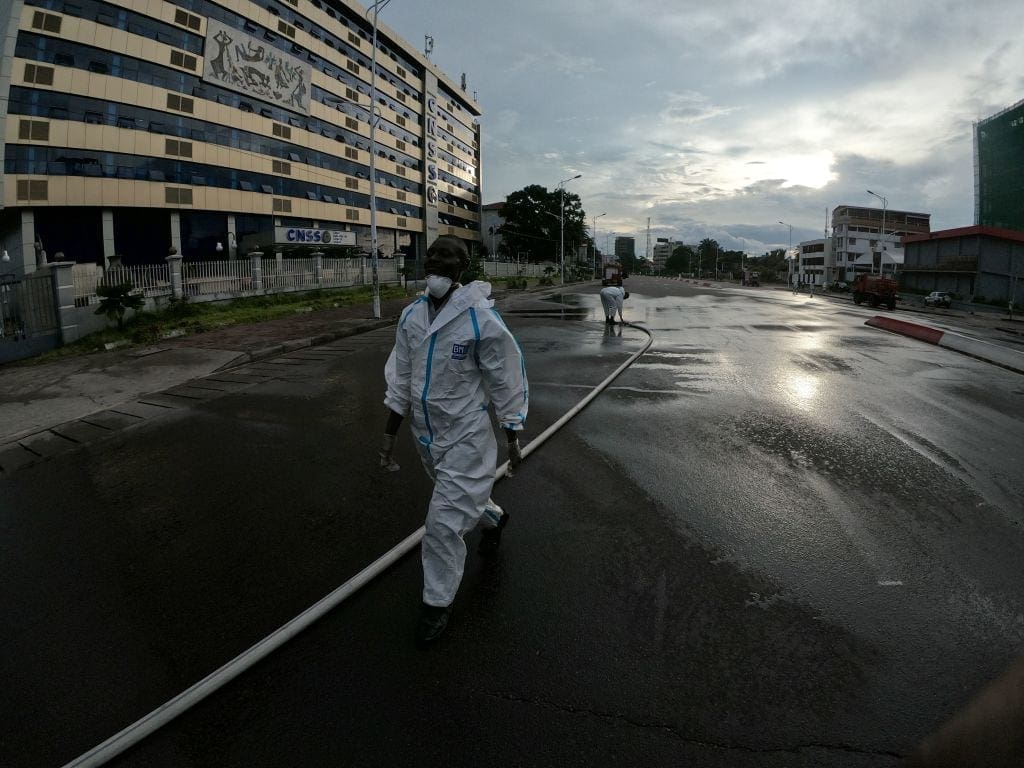 Press Release
Protect Detainees at Risk of COVID-19 in Sub-Saharan Africa, Unclog Prisons and Release Prisoners of Conscience
April 20, 2020 – at-risk detainees