Detained without Charge
Walid Yunis Ahmad went missing after his arrest on
February 6, 2000.
For three years, his family wondered if he was alive. Now they know he was tortured and that he went on hunger strike to protest his imprisonment. After over ten years of detention without charge, during which he was often subjected to solitary confinement, Walid was finally informed of the formal charges against him in January 2011.
In March 2011, he was sentenced to five years in prison on charges that Amnesty International believes were fabricated to justify years of unlawful imprisonment.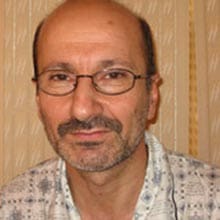 Walid Yunis Ahmad, detained since 2000
Walid, who had already been detained without trial for 10 years, was convicted of "sending orders and instructions from prison to his followers in Kirkuk and Mosul to carry out terrorist attacks in Dohuk in 2009" by the criminal court in Dohuk on 17 March. He was sentenced after a one-day trial in which his lawyer was not allowed to question "secret informants" whose testimony the court accepted and which provides the basis for the charges that appear to have been fabricated against him.
Although Walid he has been held continuously since 2000, his detention was unlawful until 4 February 2010, leading the trial court to ignore those 10 years and decide that his five year sentence should be considered to start from the date when his detention became lawful, leaving him almost four years more to serve.
Before his arrest in 2000, Walid worked at a radio and television station where he organized programs and translated material into Kurdish, Arabic and Turkman. The station may be associated with the opposition party Islamic Movement in Kurdistan.
On the day of his arrest, he took a ride in someone else's car after a meeting of the Islamic Movement when police promptly stopped and searched his acquaintance's vehicle. The officers said they found explosive material and arrested Walid on the spot. According to the "secret informants," Walid was linked to explosives that were discovered in Dohuk in 2009. However, no other arrests have been made in relation to these explosives and those who reported them denied any knowledge of Walid. The family of Walid asked a lawyer to defend Walid but the lawyer declined, saying that he was unable to help because it was a "security matter."
Walid is now held at the Asayish prison in the city of Dohuk. Amnesty International delegates visited him in prison in Erbil in June 2010.