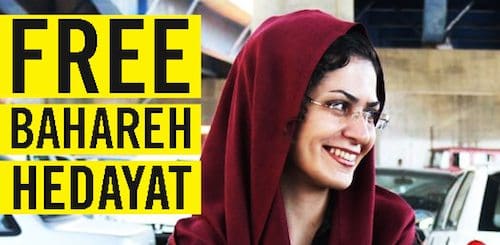 Bahareh Hedayat is an Iranian student activist in prison for 10 years on charges including "insulting the president."
The 33-year-old activist is with a group known as the One Million Signatures campaign (also known as the Campaign for Equality), a grass-roots initiative to end legal discrimination against women in Iran.
She is also a member of the Central Committee of the Office for the Consolidation of Unity, a national student body which has been active in calling for political reform and opposing human rights violations in recent years. She is currently serving a ten-year prison sentence in Evin Prison.
She was arrested on 31 December 2009, shortly after mass arrests following anti-government protests on the religious festival of Ashoura in the wake of the 2009 presidential election.
She was charged with several "offences", including "interviews with foreign media," "insulting the leader," "insulting the president," and "disrupting public order through participating in illegal gatherings."
In May 2010 she was sentenced to six months in prison for "insulting the president", two years for "insulting the Leader" and five years for "gathering and colluding to commit crimes against national security." A two-year suspended prison term previously imposed for her participation in the June 2006 demonstration calling for an end to discrimination against women in law was also implemented. An additional six-month sentence was added as punishment for having written a letter, together with fellow imprisoned student activist Majid Tavakkoli, in December 2010, encouraging students to continue their peaceful struggle for freedom.
Bahareh, a prisoner of conscience, has already served half of a 10-year prison sentence, and is therefore eligible for parole under Iranian law. Due to the harsh prison conditions, her health has significantly deteriorated and she is in need of immediate medical attention. Send a strong message now to call for her immediate and unconditional release.
Take direct action and tweet at Iran's Supreme Leader, Ayatollah Sayed Ali Khamenei, to demand Behareh Hedayat's release: @khamenei_ir
Here are some sample tweets to get you started:
Call on #Iran leader @khamenei_ir: immediately release all prisoners of conscience in Iran, incl. Bahareh! @amnesty http://ow.ly/JT6Bv

I stand with @amnesty and call on @khamenei_ir to immediately & unconditionally release Bahareh Hedayat!

http://ow.ly/JT6Bv

Bahareh Hedayat is a prisoner of conscience, she doesn't belong in prison. Release her now! @khamenei_ir

http://ow.ly/JT6Bv

Peaceful activism is not criminal, @amnesty and I call for the immediate & unconditional release of Bahareh Hedayat!

http://ow.ly/JT6Bv

Women's rights defender Bahareh Hedayat is serving 10 yrs for her peaceful activism, free her now! @khamenei_ir

http://ow.ly/JT6Bv