Human Rights Defenders at Risk
Authorities arrested Annakurban Amanklychev, Sapardurdy Khadzhiev and their colleague Ogulsapar Muradova in June 2006 on account of their human rights activism.
By September of that year, Ms. Muradova had died in detention, and Mr. Amanklychev and Mr. Khadzhiev were serving seven-year prison terms on fabricated charges. Their plight illustrates all too well the grave risks faced by human rights defenders in Turkmenistan.
Amnesty International considers Annakurban Amanklychev and Sapardurdy Khadzhiev to be prisoners of conscience who have been jailed because of their legitimate human rights activities.
The men are believed to be serving their prison sentences in the Caspian port town of Turkmenbashi (formerly known as Krasnovodsk).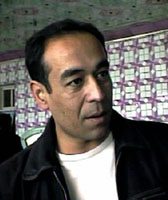 Annakurban Amanklychev, Sapardurdy Khadzhiev and Ogulsapar Muradova were associated with the Turkmenistan Helsinki Foundation (THF), an organization that publicized human rights violations in Turkmenistan.
The charges against them — the illegal acquisition, possession or sale of ammunition or firearms — were reportedly brought as a form of punishment for their human rights work. There were strong indications that the three were ill-treated in detention in an attempt to extract "confession" statements. This treatment reportedly included the administering of psychotropic drugs to Ms. Muradova and Mr. Amanklychev.
Following a trial that lasted only two hours and fell far short of international fair trial standards, they were convicted. Annakurban Amanklychev and Sapardurdy Khadzhiev were sentenced to seven-year prison terms, while Ogulsapar Muradova, who worked as a correspondent for the U.S.–funded international radio station, Radio Liberty, was sentenced to six years in prison.
On September 14, 2006, Ogulsapar Muradova's family was informed by the Ministry of National Security that she had died in custody. Family members were able to see her body only because they went to the morgue accompanied by a foreign diplomat. Ms. Muradova's body reportedly bore marks on her neck and a large wound on her forehead.
Amnesty International is concerned at allegations that she was subjected to torture and ill-treatment in detention, and Amnesty has urged the authorities to conduct a thorough and independent investigation into her death.
President Kurbanguly Berdymukhammedov assumed power upon the death of the former president in December 2006. While he subsequently reversed some of the former president's most severely criticized decisions, reforms have been very limited. There has been no fundamental improvement in human rights, and authorities continue to deny that human rights violations take place in Turkmenistan.
Dozens of people imprisoned following unfair trials remained behind bars, many held incommunicado. Authorities have harassed, detained and imprisoned human rights defenders, dissidents, independent journalists, civil society activists and members of religious minorities.