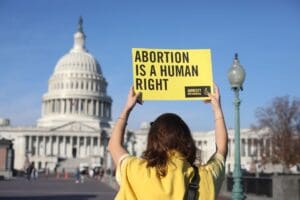 People's ability to exercise their reproductive autonomy, control their reproductive lives, and decide if, when and how to have children is essential to the full realization of human rights for women, girls and all people who can become pregnant*. Access to abortion is a human right, and international human rights committees have consistently found that criminalizing abortion violates the rights of women, girls, and people who can become pregnant in a number of ways. Pregnant people themselves—not the state—should have the ultimate authority when it comes to their decision on carrying a pregnancy. If a pregnant person decides to seek abortion care, it is their human right to have access to a safe and legal procedure without the fear of discrimination.
The following guide has been created to assist activists to fight for abortion rights in their home state, as well as other states across the country, when abortion restrictions are introduced and after they have taken effect. 
Fill out this form and we'll work to connect you with abortion rights advocacy in your state.