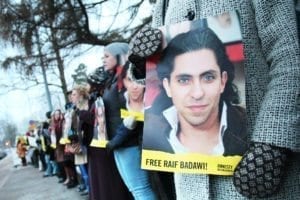 Amnesty International is urging its supporters worldwide to call for his release.
"Raif Badawi's outrageous sentence is a testament to the Saudi government's shocking indifference to human rights," said Eric Ferrero, deputy executive director of public affairs at Amnesty International USA. "Raif is a peaceful man who should not have spent one day away from his family for speaking his mind, let alone locked away for years and subjected to cruel physical punishment. While he languishes in a cell, his children are growing up without him oceans away, and his wife Ensaf works tirelessly for his release. Despite the chummy relationship with President Trump, the U.S. must denounce Raif's imprisonment and call for his release."
Badawi's children – Najwa (14), Miriam (10), and Trad (8) – spoke of their pain of missing their father in a video and  a pair of essays.
"Mom says you are brave, that you wrote for your country, that people like you make history," writes Miriam. "And it fills me with so much pride, I could explode. I can't wait until the day I can point to you, standing next to me and say: Look! That's my father."