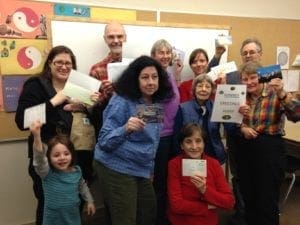 CLICK HERE FOR 2020 NOWRUZ ACTION
For the past twelve years, activists have been sending messages of solidarity and support to prisoners of conscience in Iran and their families around Nowruz, the Iranian New Year, which marks the beginning of Spring. Sadly, scores of people in Iran—labor activists, journalists, social media users, artists, women's rights activists and human rights defenders—will not be able to celebrate this important holiday with their family and friends because the Iranian government has slammed them into prison, just for exercising their rights to freedom of expression and association.
It is especially important to remind them at this time that they are not forgotten. Please take this year's Nowruz Action. We know that in the past, families of prisoners have received hundreds of Nowruz cards and they have reported how much it meant to them to know they were not alone.
We have selected seven cases to honor the tradition of the Haft Sin where seven items representing spring time, whose first letter is the Persian Sin (equivalent to the English S), are set out on a table. The seven cases for this year include: human rights defender Narges Mohammadi; human rights attorney Nasrin Sotoudeh; wildlife conservationist Niloufar Bayani; husband and wife Golrokh Ebrahimi Iraee and Arash Sadeghi; women's rights defender Farhad Meysami; specialist in emergency medicine Dr. Ahmadreza Djalali; and women's rights defender Saba Kordafshari. Please send Nowruz cards to them and their families. This would be a great action to do with your group. Please also take photos of people making Nowruz cards and send them to us. It is also important that the Iranian authorities notice the stream of cards coming in. This will show them that the world is watching them.