STOP DEADLY STAND YOUR GROUND
The Ohio legislature is trying to pass an extreme "Stand Your Ground" bill that would put lives in danger. It would allow anyone in public places like malls or parking lots to shoot to kill if they feel threatened without any responsibility to try to deescalate or simply walk away.
OHIO RESIDENTS – ACT NOW: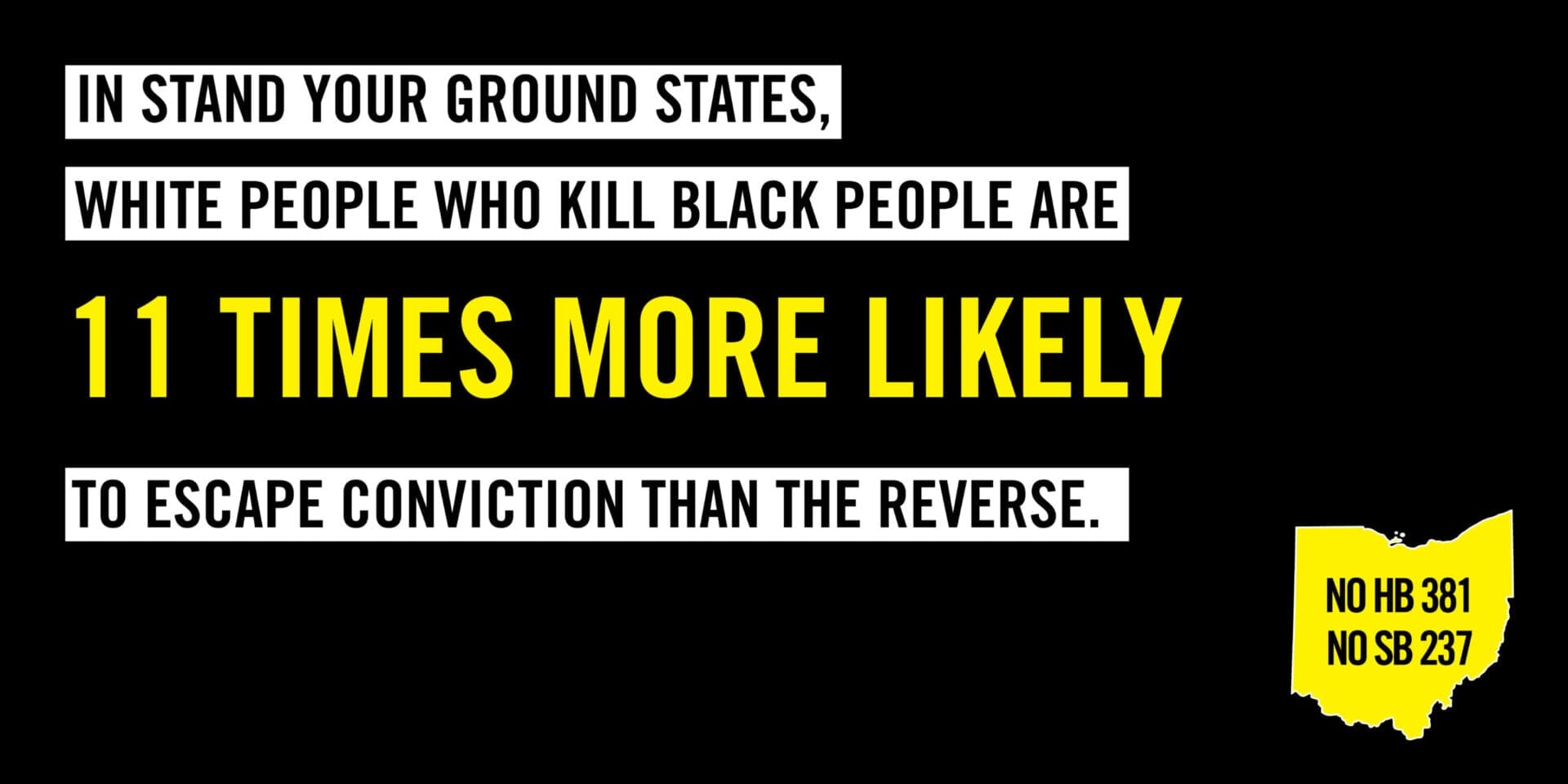 MORE INFORMATION:
Read our full fact sheets: House, Senate
Gun violence poses a serious risk to the public safety and human rights of Ohio residents. Over 1,400 people die as a result of gun violence in Ohio every year – one person every six hours – and it is the second-leading cause of death for Ohio children ages 1 to 17.
Public safety:
Everyone has the right to self defense. But research shows that Stand Your Ground laws actually endanger lives and public safety: the American Medical Association found that Florida's implementation of this law led to a 32% increase in firearm-related homicides.
This bill is also simply unnecessary: Ohio already subscribes to the "Castle Doctrine" which requires no duty to retreat before shooting to kill when defending yourself in your home or vehicle. Keeping the "duty to retreat" when in public places exists to minimize the use of deadly force to incidents where there is no safe alternative.
The "duty to retreat" is a standard by which we all operate as individuals – instead of throwing a punch at the first sign of a threat, we expect people to at least attempt to deescalate or walk away, resorting to violence only when absolutely necessary. Why wouldn't we want the same amount of care – if not more – when handling a deadly weapon?
This would effectively allow private individuals to be held to a lower standard on the use of deadly force than law enforcement officials.
Racial disparity:
The American Bar Association found that the application of Stand Your Ground laws is "unpredictable, uneven and results in racial disparities", also finding that interracial homicides spiked in the states that had these laws.
In Stand Your Ground states, white homicide defendants with Black victims are 11 times more likely to escape conviction than Black homicide defendants with a victim who is white.
RESOURCES